Shall we have some fun this week?
~ Best PHOTO drinking Perry Big Willy at home.
~ Post on GNTP FB or Insta
~ Tag #bigwillyGNTP
~ Chance to win your next 4pack on US!
Lockdown Special – Pear and Apple cider by Perry Big Willy.
4 pack only $22 takeaway.
Get those cameras!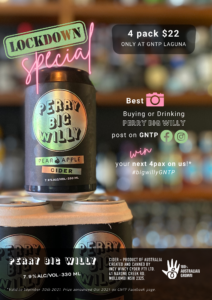 Drink from the can and show us your lovely faces –  we are missing you all at GNTP.
T&C's – Photo giveaway with PBW & GNTP, IWC and not related to Facebook in any way.  Photo comp ends Sept 30th. Announced Oct 2021 on GNTP FB. Photo comp opened to Wollombi Valley residents only during this lockdown period. Must be over 18 yo to participate. 
Cider Product of Australia and is created and canned by Incy Wincy Cyder Pty Ltd, Wollombi NSW 2325.
GNTP hours ~ 9 am to 1 pm for takeaway only.